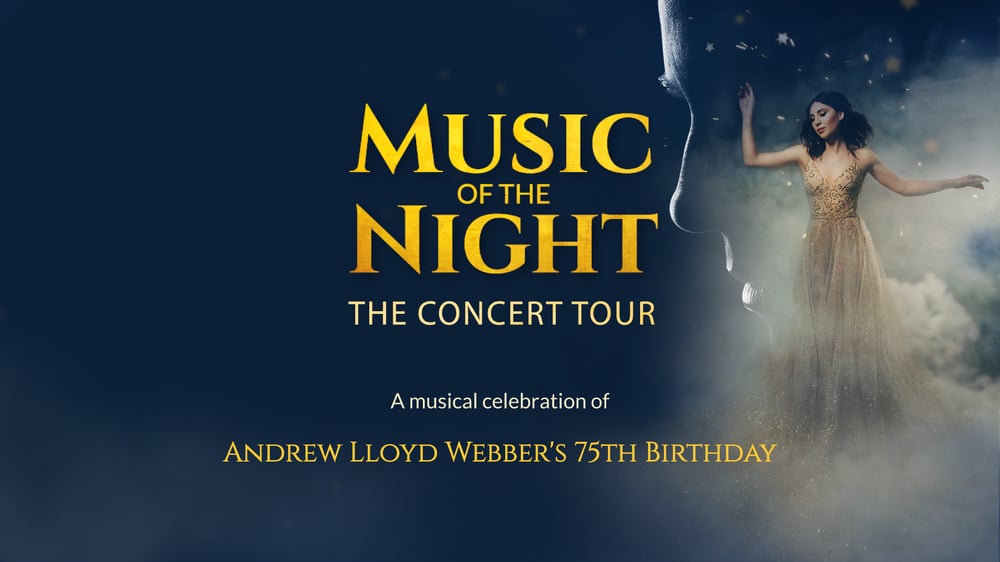 Good Evening
Williams Lake!

Thank you for joining us
for tonights musical celebration of
Andrew Lloyd Webber's
75th Birthday
(2023)
---
---
Music of the Night: The Concert Tour
is an original production and creation of
Sound the Alarm: Music/Theatre,
a Vancouver based music/theatre organization.

Artistic Team:
Producer and Creative Director: Alan Corbishley
Artistic Producer: Renee Fajardo
Music Director and FOH Manager: Frederik Robert
FOH Manager: Victoria Sartor (Oct 11 - 26)
Assistant Producer and Band Leader: Evan Berndt
Production Managers: Aaron Quibell/Blake Kriedemann
Lighting Design: John Webber

Cast:
Scroll down for bios

Melina Schein (Soprano)
Amy Gartner (Mezzo) [Sept 26, 27, 29]
Georgia Bennett (Mezzo)
Tainui Kuru (Tenor)
Adam Fisher (Baritone)

Band:
Bass/Guitars: Cole Friesen
Drums: Dean McKey
Keyboard 2/Band Leader: Evan Berndt
Keyboard 1: Angus Kellett
(Sept 23, 26, 29 to Oct 14)
Keyboard 1: Arielle Ballance
(Sept 24, 27 & Oct 17 - 26)


This is a concert production and therefore
is not a narrative based production.


Concert Song List

We want you to have the element of surprise,
so we will release the list of Act 1 songs (50 min) at Intermission
and the list of Act 2 songs (45 min) after the show.

25 Songs in total from 10 of ALW's musicals.

Remember to REFRESH your screen


1. I Am the Starlight (Starlight Express)
2. Any Dream Will Do (Joseph and the Amazing Technicolor Dreamcoat)
3. Another Suitcase in Another Hall (Evita)
4. Love Changes Everything (Aspects of Love)
5. Unexpected Song (Song and Dance)
6. Buenos Aires (Evita)
7. King Herod's Song (Jesus Christ Superstar)
8. All I Ask of You (The Phantom of the Opera)
9. High Flying Adored (Evita)
10. Don't Cry for Me Argentina (Evita)
11. Heaven on Their Minds (Jesus Christ Superstar)
12. Superstar (Jesus Christ Superstar)

20 Minute Intermission

13. The Phantom of the Opera (The Phantom of the Opera)
14. Music of the Night (The Phantom of the Opera)
15. Think of Me (The Phantom of the Opera)
16. Gethsemane (Jesus Christ Superstar)
17. As if We Never Said Goodbye (Sunset Boulevard)
18. Wishing You Were Somehow Here Again (The Phantom of the Opera)
19. Memory (Cats)
20. Macavity (Cats)
21. Song of the King (Joseph and the Amazing Technicolor Dreamcoat)
22. I Don't Know How to Love Him (Jesus Christ Superstar)
23. With One Look (Sunset Boulevard)
24. Til I hear You Sing Once More (Love Never Dies)
25. Light at the End of the Tunnel (Starlight Express)


This tour is visiting 20 Cities from Sept 23 - Oct 26 through
Alberta, Saskatchewan, Manitoba and Northern BC.

If you enjoyed tonights performance, please let your friends and family know in our other performance locations.
Click here for dates and tickets.

The Cast
Meet the Fall 2023 Cast.
Cast is subject to change.
(Vernon, BC, New York City Raised)
Soprano
---
NY/USA:
Juilliard School graduate, Marriage of Figaro, The Elixir of Love, Cosi Fan Tutte, Showboat, Candide, Fiddler on the Roof, Guys & Dolls, My Fair Lady, The Music Man, Carousel, Phantom of the Opera

Canada:
The Magic Flute, The Sound of Music, The Phantom Returns with 'Phantom' legend Sir Peter Karrie, Opera with a Twist national tour, soloist with symphony orchestras across Canada

As Producer/Music Director: Founder of Big Apple Productions, Les Miserables, The Producers, Honk the Musical, Pirates of Penzance, Fiddler on the Roof, The Rocky Horror Show, Jesus Christ Superstar, Beauty and the Beast, Chicago, Monty Python's Spamalot

Follow:
@thesaucysoprano

Georgia Bennett
(Chemainus, BC)
Mezzo
---
Canada:
Ghost: the Musical, Little Women, Classic Country Roads, Dogfight, Storybook Search, Les Miserables, Footloose, Senza Luce, Back to B4: A Bingo Bonanza, Rumspringa Break: An Am-ish Musical

Follow:
@lolbenzz
Amy Gartner
(Vancouver, Sherwood Park raised)
Mezzo
---
International:
Various productions on
Royal Caribbean Cruise Lines

Canada:
Do It Anyways, Side By Side By Sondheim, Merrily We Roll Along, Maud, Crunchy, Draining the Swamp, Come Along and Listen, The Who's Tommy, Hair, Cabaret Singer at the Giggle Dam

As music director:
Once on This Island, Pageant

Composer:
Waiting for Garbo


Follow:
@amygermainegartner

Tainui Kuru
(Vancouver, New Zealand/Mauri raised)
Tenor
---
International:
Cats, Edges, H.M.S Pinafore, Grease, Saturday Night Fever, Rat Pack, The Dancing Years, Iconic Kiwis, Phantom to Les Mis, Diva's Through the Decades, Modern Maori Quartet

Canada:
Not A Day Goes By, Relive the Music,

Follow: @tai_kuru_
Adam Fisher
(Vancouver, and raised)
Baritone
---
International:
Young Caesar, America's Wonders, La Belle Helene, The Rake's Progress, Il Barbiere Di Siviglia

Canada:
Les Misérables, Joseph's Dreamcoat, Jesus Christ Superstar, La Boheme, Candide, Oksana G, Die Fledermaus, South Pacific, Midsummer Night's Dream (Britten), Merry Widow, Ours.

Follow: @adamfishermusic

(Vancouver, Edmonton raised)
Musical Director
---
International:
One of the original Canadian Tenors, and Romanza Tenors,
Vocal Coach with Disney (Motherland; Fort Salem)
& Netflix.

Canada:
Marry Me a Little, Lost Operas of Mozart, Stickboy, Don Carlos, Tosca, Dragging Piaf, Masterclass, and soloist with orchestras across the country.

Follow:
@vocalcoachcanada

(Vancouver, Vernon raised)
Band Leader/Keyboards
---
International:
Pianist and composer for film, TV and brands such as Oakley and Black Diamond. A keyboardist for The McCartney Years and currently, the Artistic Director at dividethesilence.com

Canada:
The artist, known as, Van Ber. Composer and producer for art installations, dance and broadcast, including: Griffen Art Projects, The Amok Project, and CBC Creator Network. Session pianist and songwriter for Van Ber, Shad, Chad Price, Sam Hart, Caitlin Goulet and Elfina Luk.

Follow:
@vanbermusic

Cole Friesen
(Vancouver)
Bass/Guitar
---
International:
Guitar, bass and vocals as a member of the Alternative Rock band The Matchstick Skeletons TV and Film published songwriter

Canada:
Session guitar and bass player for acts such as Van Ber, Andrew Allen, Wes Mack, Raquel Cole and Michael Bernard Fitzgerald Music

Producer and mix engineer ​​​​​​​

Follow: @coledavisfriesen

Angus Kellett
(Vancouver)
Keyboard 1
---
As Keyboardist:
Wicked, The Book of Mormon, Les Misérables, The Sound of Music, West Side Story, Annie, Fiddler on the Roof, The Wizard of Oz, Beautiful: The Carole King Musical, Mary Poppins, Mamma Mia!, Matilda, Beauty and the Beast, Nixon in China, Turandot, Tosca, Die Zauberflöte

As Music Director:
La bohème, Carmen, L'elisir d'amore, Madama Butterfly, Il barbiere di Siviglia, Pagliacci, Gianni Schicchi, Elektra, City of Angels, It's a Wonderful Life, Into the Woods, Songs for a New World
Arielle Ballance
(Vancouver)
Keyboard 1
---
Canada:
Company, Merrily We Roll Along, Anne of Green Gables, Curtains, A Chorus Line, Joseph and the Amazing Technicolor Dreamcoat, We Will Rock You, Disney's Newsies, 42nd Street, Ragtime, Ordinary Days, Big Fish, Catch Me If You Can, Young Frankenstein

Follow: @arielleballance
Aaron Quibell
(Vernon)
Production Management/
Sound/Technician
---
Sad Sound Clown (written and produced), Digital Prophet, Master Handshaker, Change Magician, Wheel Turner, A Chain Stretcher in Time, My Left Handed Screwdriver,

Aaron is also a passionate
balloon animal artist and wedding DJ.
Blake Kriedemann
(Vancouver)
Lighting/Technician
---
Canada:
Angels bone, Starwalker, T.Rex, The Ultimate Predator, Mercedes Benz NADM, XICANX, Harmony Arts Festival, BMO Marathon, BC Bike Race, Tour De Cure, Gran Fondo
"I was part of the sold out Show in Red Deer last nite Sat Sep 23rd. This is a FANTASTIC show for Andrew Lloyd Webber Fans or music fans in general. The singers are excellent with beautiful powerful voices and the musicians are terrific as well. The whole production was great. I would go to this show again in a heartbeat 💓 Congratulations 👏🏻👏🏻👏🏻 on an opening show. 🥳"
Wally Sheardown from Red Deer, AB
"Wow what a great show the timing was perfect the song choices superb, the musician and singers gave us a performance that ALWebber would have not only approved of but applauded. Well done." Patricia Hutchinson from Red Deer, AB
"I love this music but didn't know much of what to expect from a whole concert of it. I was blown away. The whole show was a spectacle that brought new life into all of these songs by a cast of world class singers. Never a single dull moment and we didn't want it to end. Thanks for elevating our community with your music." Clara P. from Nanaimo

"The show was fantastic! If you are seeing it in another city, you are in for a real treat when you see it. The talent is completely fabulous! The whole cast is so talented bringing this music to life." Anne F from Victoria
"You certainly did take Nanaimo by storm! What a great show and ohhhh your voices - so beautiful! It was a magical afternoon."
Rita B. from Nanaimo
"Thank you so much for a very enjoyable afternoon. Although we didn't know all of the music, we knew a whole lot of it. The only complaint I have, is that it ended way to soon. We would have gladly sat for a much longer show given how wonderfully talented everyone was. Amazing job!! Thank you, once again!!" Ron & Randy Pruden, from Abbotsford
"I was at the Cultural Centre in Chilliwack last night. I LOVED the show." Jill Robertson, from Chilliwack
"Saw this concert in Abbotsford on Sunday....it was amazing ! All the artists were so great ..the lighting effects were super and ..of course...the music ! It was well paced and would have loved it to go on for another 2 hours. As we're older and don't drive into Vancouver any more, it's great to have artists come to us. And didn't realize we had such very talented singers in our area (including the Island)! Thank you again for a wonderful afternoon." Lee Hopwood from Abbotsford
Donations are always appreciated!
Sound the Alarm: Music Theatre
is a registered Canadian charity.

All donations will automatically make you a member of the organization, and a taxable charity receipt will be emailed to you directly.

To DONATE and to LEARN MORE about our organization and our standard programming that helps "sound alarms' on social issues, please click below.

Thank you so much for your support.